There are so many fun, interactive techniques that you can share with your kids to help support their immune system. Here are some easy, peasy tips to keep your kiddos healthy and calm.
Pediatric Gua Sha
Gua what?!? Gua Sha or scraping massage is a great technique to use on kids 4 years and older. Kids respond very well and even ask for it by name! It increases blood flow and regulates the immune system, treating allergies, coughs, colds and fever. Plus, it feels really good.
From Robin Ray Green L.Ac.
What you need:
Gua Sha tool– rounded, smooth edged spoon, stone tool or ceramic soup spoon
Body lotion or cream
Put lotion on upper back focusing on the area on both sides of the spine between the spine and the shoulder blades. Using a firm, but gentle pressure, rub the edge of the Gua Sha tool down on one side of the spine until it starts to turn light pink. Using long, even strokes. Then move to the other side of the spine and repeat. I recommend 3-5 minutes total. Definitely check in with your kid to see how they're feeling—this should feel good!
Acupressure
Gently and firmly press on the points bilaterally for up to a minute at a time!
Lung 9–Strengthens the lungs
Ren 22–Cough, sore throat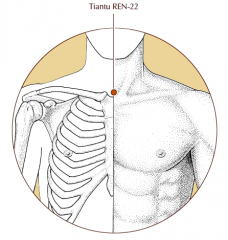 Qi Gong
Stand with feet shoulder distance apart
Have your kid soften their gaze, hands resting on belly.
Breathe into the belly and raise one arm up towards the sky.
At same time the other arm pushes down to the ground.
Have them hold their breath for a count of 2 and stretch towards sky and ground.
Releasing the breath, arms return to belly.
Repeat, switching arms. Start with a couple of slow, deliberate rounds and work up to 20.